The pool with transparent walls is an interesting decision to stand out from the crowd and fit an artificial pond into the design of your own home. And if earlier it was the privilege of expensive hotels and restaurants, now the pool and transparent walls began to be built in private possessions. Swimming in such a pool is not only a physical but also aesthetic pleasure!
glass pool
The first idea
is
glass
minimalism. If you want to place the pool in your own yard and at the same time do not use a lot of space, then all you need to do is to use glass enclosures for the water vessel. It looks simple, but at the same time stylish and expensive. Your pool will be surrounded by a transparent glass fence. This material is very reliable, therefore safe, as well as ecologically clean. Based on this, a glass fence around the perimeter can be considered one of the best choices for a pool in the courtyard of private houses.
glass pool
The second idea
is the creation of a swimming pool with the use of a concrete fence and
glass
inserts. The basin, in this case, is embedded in a solid concrete box with a large porthole window. This is a rather unexpected look at the pool in the house, which emphasizes the uniqueness of the design of your home and the pool itself. It looks very interesting and fits well with any style of home. And also this is not at all expensive, since the material is not expensive.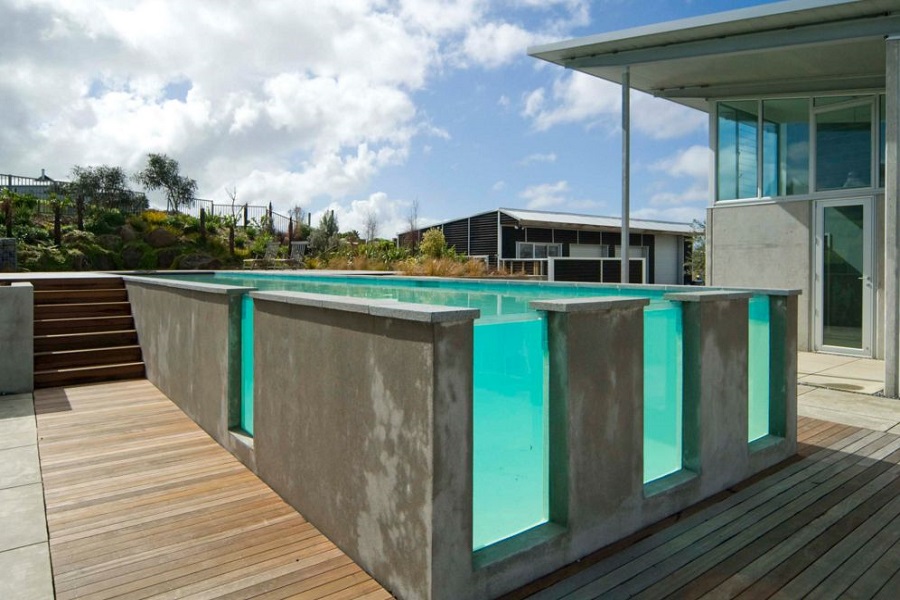 glass pool
The third idea
is a transparent
glass
bottom of your pool. Some private home owners prefer rooftop pools. In this case, a swimming pool with a transparent ceiling is both a shed above the seating area, and a live installation, a decoration through which the light enters the terrace, creating unique visual effects